Tech
"Key Takeaways from Elon Musk's Interview: Six Things to Know"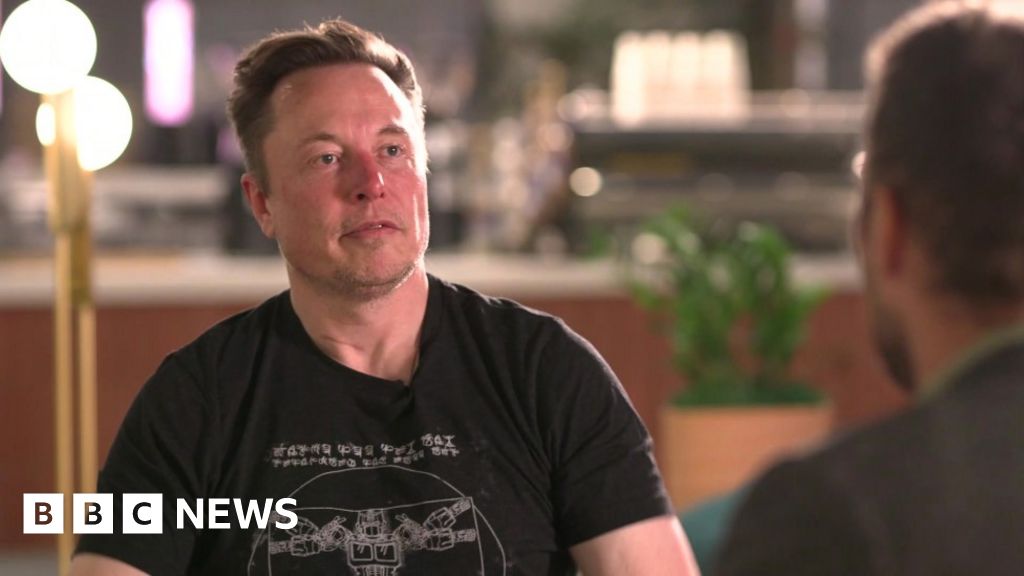 Media caption: Watch: Elon Musk's unexpected BBC interview… in 90 seconds
Elon Musk has defended how he runs Twitter in a rare and wide-ranging interview with the BBC. The world's second richest man was questioned for nearly an hour by the BBC's technology correspondent James Clayton at Twitter headquarters in San Francisco.
Here are six things we learned.
1. He denies hate speech on Twitter has spiked
Mr. Musk refused to accept there was more hateful content on the platform since he took over. Speaking to the BBC earlier this year, some Twitter insiders have argued that the company is no longer able to protect users from trolling, state-coordinated disinformation, and child sexual exploitation, following layoffs and changes under owner Mr. Musk. In March, Twitter said it removed 400,000 accounts in one month alone to help "make Twitter safer." In order to assess Mr. Musk's claims fully, you'd need two things that we don't have at present – access to Twitter's data before and after his takeover and, crucially, a clear understanding of how he defines misinformation and hate speech. There is no blanket definition of hate speech under American law, which is generally much more permissive than in other countries because of the first amendment to the US Constitution.
2. He voted for Joe Biden
Close to half the country voted for Mr. Trump in the last US election, Mr. Musk said, but he added: "I wasn't one of them. I voted for Biden." In another part of the interview, he defended ending a Twitter ban on Mr. Trump who had been removed in 2021 when the platform accused him of inciting violence.
3. He says Twitter is beating the bots in the war on disinfo
Mr. Musk claimed his efforts to delete bots – automated accounts – had decreased misinformation on Twitter after his takeover. "My experience is there is less misinformation rather than more," he told our reporter. Some outside experts disagree. A study from Newsguard which tracks online misinformation – and there are quite a few other studies along the same lines – found that engagement with popular, misinformation-spreading accounts spiked after Mr. Musk's takeover.
4. He's against banning TikTok
Mr. Musk says he doesn't use the most downloaded app in the US but he is against any moves to close it down. The US is considering a ban due to security concerns over TikTok's Chinese ownership. Some other countries have banned it from the phones of government employees. "I'm generally against banning things," said Mr. Musk, although he says a ban would benefit Twitter because it may mean more people spending time on his platform.
5. He would turn down $44bn for Twitter
Mr. Musk initially claimed in the interview that if someone offered to buy Twitter right now for what he paid for it, he'd refuse. If he did sell, he said it would be more important to find a buyer who cherishes the "truth" rather than how much they'd pay because, as he says: "I don't care about the money." But is that true? Remember, he desperately tried to back out of the deal. Mr. Musk said Twitter had just months left to live when he took over and was being run like a non-profit. Twitter's costs were outstripping the amount of revenue it was generating. In its last full-year results published before Mr. Musk took over, total sales hit $5bn in 2021 but costs and expenses reached $5.5bn. In fact, it has only had two profitable years since 2012.
6. He will back down on how BBC is labeled
Mr. Musk confirmed he would change the BBC Twitter label from "government-funded" to "publicly funded" after last week's row, and several hours after the interview this change was made. The BBC had objected to the original description, stressing the corporation's independence. It is mainly funded by the British public through a TV license fee. In Wednesday's interview, Mr. Musk said: "If we use the same words as the BBC uses to describe itself, that presumably would be OK." The license fee made up about 71% of the BBC's total income of £5.3bn in 2022 – with the rest coming from its commercial and other activities like grants, royalties, and rental income. The BBC also receives more than £90m per year from the government to support the BBC World Service, which predominantly serves non-UK audiences.
Reporting by the Reality Check team, BBC Monitoring, and Dearbail Jordan, a business reporter